Erik Flowers does an excellent job on his Practical Service Design blog post Demystifying Service Design Part 1 and Part 2 of clearly explaining the core principals of Service Design
"The customer benefit is what all parties should be trying to enhance. From a service designer's point of view, this could mean:"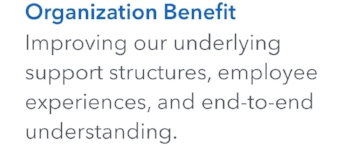 "This next benefit is where UX and design often is lacking: organization benefit. Most of the time, UX doesn't really work on this."
"This being the case, service design makes another promise. It's not only here to design your services. It is here to help you design for service; the way in which you are going to serve. This focuses on how the organization is going to ensure the successful delivery of service to the customer."
He stresses the fact that service is not simply a straight line between product and customer but a spectrum of options in between.


"Maybe you specialize and offer different types of hammers to serve more specific tasks. Maybe you rent hammers. Maybe you have your hammers up in the cloud (HAAS: hammering as a service). Or, maybe you have professional hammering advisors who will tell you exactly how to hammer, but not do it for you."
Another core principle is what he refers to as "Stage Theory."
The final core principle he refers to is called "Behind the Scenes."
Part 2 is summarized on the blog post Demystifying Service Design (cont.)